Built to Order – The perfect 1973 Series III 88″ convertible – Coming soon, can be yours.
$50,000 and it can be yours, finished, in whatever color you want. 200/300tdi engine. 5-speed LT77 rebuilt transmission. LT230 locking differential (unless you prefer to keep the series 2WD/AWD option). New interior. Soft top or hard top/ your choice.
Will be better than new when finished in the Spring. Can be secured now to be yours, and can be built to your specification if you reach out to me here.
I'll include photo of how I want it to look when I am finished here …
1996 Discovery 1 OVERLAND w/new 300Tdi & 5 SPEED
ARB front and rear diff locks , switchable from dash
ARB front bumper, rock sliders, and front fender guard/bars
WARN 12,000 pound winch
In addition, I have installed a barnd-new ZombieMotors 300Tdi turbo-diesel engine which will carry a 12-month warranty to the buyer.
During conversion, truck was also fitted with brand new clutch, clutch hydraulics, OPTIMA battery, fuel lines, in-tank fuel sending unit, filters and fluids.
Truck is available for purchase for $21,000 – You can not build this truck for the price. Truck looks awesome and will take you wherever you want to go, and be much simpler to maintain than the original V8 gasoline engine. This expedition rig will also return about 50% better fuel economy than the V8.
Questions? Call us at 912-414-8993, Thank You –
1988 Defender 90 Left Hand Drive – Ready to be built to order for you!
We can add a fully reconditioned 300Tdi engine, make this an automatic for you if you prefer, add air conditioning, even take care of the exterior and have it painted in the color of your choice –
Truck sold as-it-sits now ; 25,000
Add rebuilt 300Tdi with warranty ; 37,000
Automatic transmission add $2500
anything else? just give us a call —
Price on request, Call 912-414-8993 , Thank You ~
Land Rover Defender 2.0 MPi gasoline 4 cylinder engine swap to Tdi
Double overhead camshaft, multi-port fuel injection. Produces 136 HP, a lot more than any of the Tdi diesel engines (or the Td5 for that matter), but produces the power much higher up in the RPM range, so this is a great 'freeway / daily driver engine', but not such a good 'off road/ crawler/towing' engine.
Engine is spotless, and without fault whatsoever. Will bolt to a Defender R380 (Or a Discovery R380, for that matter), so a good fit for a Defender or Discovery, or Range Rover Classic… Less power all around than the V8, but with much better fuel economy – An interesting piece of technology and Land Rover history, for sure.
Land Rover Defender 90 300Tdi —- Sweet entry-level D90!
300Tdi – powered Defender 90 for under $20K ? WHAAAAAA??
R380 5-speed transmission too? Yep. This is a great deal, people.
149,000 miles on truck, 110,000 on the 300Tdi and R380!
Civilian Station wagon — Seats 6 people with a cubby box in center position in the front.
Very solid truck, hand picked by our buyer in the UK for its lack of rust/problems.
Ready to drive anywhere, right now.
Will be sold with a clear, Oregon title – able to be registered/titled in all 50 US states.
CONVERSION: NAS Defender 90 to 300Tdi
I'll be updating these 'Instructional Diaries' as I go, so if this post ends suddenly, do not worry. I'll be here updating it every few days so be sure to check back periodically and if you have any specific questions or concerns you can message me at zak@zombiemotors.net – Thanks for your interest!
Just with me now this week is a 1994 Land Rover North American Spec Defender 90. Customer has requested that the thirsty and trouble-prone 3.9L V8 be removed and replaced with a fully rebuilt-as-new 300Tdi 2.5L turbo diesel engine kit, and the correct matching R380 5-speed transmission for same.
Here are a few photos before I got started on the job, nice clean looking D90!
The first thing I do is to disconnect the battery, which lives under the driver's seat: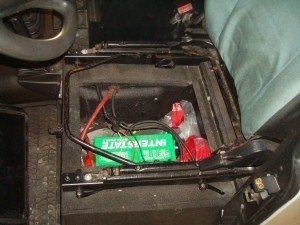 The next logical thing to do is to remove the front roll-cage cross member which is under the windshield. This allows you to open the hood up high enough to detach from the hinges. Once straight up and down, and with the help of someone else to take a side, you can lift hood straight up and off (after disconnecting hood stay bar in front) and place someplace safe away from the truck. In these photos you may notice I did not do this until a little later, after disconnecting some wires and hoses:
After this, the first thing I typically like to do is drain coolant and oil, and then remove radiator and fan to get more access around engine. Good idea to remove lower radiator hose first and have a catch pan underneath. Remove oil cooler lines from radiator, and I zip tie used gloves around each one to keep them from dripping on the floor. Remove smaller hoses and upper radiator hose. Free fan shroud from radiator, and push back as it will not be able to be removed yet, unless you have the correct fan hub nut wrench and removed fan from water pump at this time. Finally, remove the two securing brackets at the top of the radiator, then simply lift radiator straight up and out of vehicle. Once radiator is out of the way, you can easily slip fan shroud forward off fan and out of truck, too.
Tdi Turbo Diesel Land Rover engine conversion swap kits for Defender/ Series 88/109 and RR Classic/ Discovery 1 & 2
Most every engine swap is a little different than the next one, and so the cost of all the conversion kits are a little different, too. Call us at 912-414-8993 to discuss your specific needs and we will put a price together for your custom kit.
I have used turbo-diesel engines here starting at $2500 for engine alone (For the engines I am removing to replace with the 200tdi/ 300tdi) Complete conversion kit kit prices start at $8500
Installation at our shop is always a possibility – call to discuss schedule and costs, prices for installation labor (labor-only) start at $2500
All engine conversion kits include:
LEVEL ONE KIT – THIS IS A USED ENGINE THAT HAS HAD NO WORK DONE TO IT BY US. NO WARRANTY OFFERED ON THESE ENGINES. Prices start at $4995
'Good Used' kits are removed from low-mileage vehicles in the UK and have from 80K-120K miles on them.
Include radiator, intercooler and associated pipework.
Engine wiring harness (when necessary), glow plug timer relay.
Motor mounts and chassis mounts (when necessary, or different than your existing).
Complete engine with all accessories mounted on.
Does not include air conditioning components unless specified when placing order. We do make our own custom brackets to mount V8 compressor to our engines so you do not have to evacuate any freon.
Proper air cleaner and diesel filter housing assemblies and new filters.
Telephone/ email installation support if you want to do installation yourself. I have photo diaries of engine swap job you can have access to to make the job easier.
When ordering complete kit with transmission, you also get:
Healthy 5-speed manual transmission (Lt77 or R380 depending on kit).
Transmission cross-member.
Shift sticks and boots for finished clean look inside truck.
When necessary, front drive line.
Pedal box assembly with clutch pedal and hydraulics for clutch.
All engine/ transmission kits also come with proper LT230 center-locking-differential transfer case in correct ration for your application.
In the case of an automatic, you get correct diesel automatic transmission and LT230 center-locking differential.
Defender-Versions of the kit will also come with:
Correct version of the transmission with short bellhousing.
Correct radiator shroud and hoses/pipes.
200tdi 'Defender' version engine available with high-mount turbo for easier LHD install in some vehicles.
When specifying R380 transmission, kit will come with correct seat box assembly, transmission hump and floor panels.
LEVEL TWO KIT 'ENGINE MASSAGE' Average cost $7250. –I typically only sell fully rebuilt engine kits anymore, but if you insist on a 'cheaper option' , I have these : I like to call it an 'Engine Massage , but you may consider it a 'Major Engine Service' with New Parts Kit. It's the same as a level one kit, but includes the following work and parts:
Engine is torn down enough to send the flywheel to a machine shop, and cylinder head is removed to install a new head gasket and inspect cylinders. If necessary, engine block may be spruced up a bit at this time.
New timing belt kit installed at this time with new belt, tensioner, idler and in case of 300Tdi, an updated crank gear is installed to prevent timing belt problems this engine had. Everything properly timed using correct equipment.
New front crankshaft main seal fitted. New camshaft front seal fitted.
New water pump installed. In case of 300Tdi , water pump housing 'P' gasket replaced.
New diesel lift pump fitted.
Flywheel resurfaced and modified for easier 'locating pin' removal in future.
New 4-piece clutch kit fitted (clutch disc, pressure plate, throw out bearing, and input shaft bushing fitted to crank).
New serpentine belt tensioner fitted, with new serpentine belt.
Valve adjustment / inspection/ new valve cover gasket fitted.
New head gasket.
NEW EGR Delete plate fitted.
New silicone intercooler hoses included.
IN THE CASE OF DEFENDER 90/110 and SERIES 88/109 KITS, YOU WILL ALSO RECEIVE THE FOLLOWING:
300Tdi will be fitted with custom-made RHS bolt-in-motor-mount-kit, meaning you can fit engine without having to cut and weld chassis mounts!
Custom-made intercooler pipe kit made for your particular application. Custom made hoses and pipes mean you do not have to make your own, look for adapters or fittings or have to buy anything else to hook up your engine.
Custom made coolant hose kit – same as the IC pipe kit – bolt on solution with no modification necessary from you.
NEW radiator/ oil cooler.
New oil cooler hoses.
Tdi-style under-hood simple diesel filter housing assembly.
Clutch housing/bell housing modifications performed here so you can install directly to LT77 transmission, or Series transmission ~ A Zombie Motors Exclusive! Makes this an 'unwrap and install' reality with no extra work for you or your mechanic.
LEVEL THREE , COMPLETE REBUILT ENGINE OPTIONMy # 1 Seller! For those of you restoring your truck, building that high-dollar vehicle for resale, or wanting to extend your warranty/peace of mind, or needing that 'perfect cosmetic' engine, this is for you!
Will include all install kits/new parts as in Level Two, but every engine totally torn down, and block/crankshaft/flywheel sent to machine shop.
All freeze plugs removed and replaced with new. Oil galley plugs removed, cleaned out and replaced.
Engine block can be painted your choice of color, most people go with black, but many choose silver or gold.
After inspecting, machinist either hones cylinders, or opens up to next oversize. Crankshaft polished. If out of spec, it is replaced with a new one. Camshaft bearings inspected/replaced (machine shop can only do this as they have to be 'cut in' and machined to fit cam. This is one of several things the bargain rebuilders never do).
200Tdi engines will have their cylinder heads rebuilt with new valves, springs, keepers, and guides if necessary. Valves cut/seated. Pressure tested and skimmed. 300Tdi engines will receive BRAND NEW (not rebuilt) cylinder heads.
Engine is now rebuilt using new bearings, seals and gaskets throughout.
NEW pistons/ rings always used. We NEVER re-use old pistons like the bargain rebuilders.
Camshaft inspected. If at all worn, new fitted and matched to bearings.
Aluminum parts wire-wheeled and steam cleaned for handsome look once assembled. We NEVER rattle-can aluminum parts with silver paint like the bargain 'rebuilders'.
Oil pan painted black.
Completed engine is fitted with new alternator, and new started motor.
Engine fitted with brand-new front timing cover (to get benefit of new fan hub bearing, which is non-serviceable).
Turbocharger stripped, inspected, cleaned, painted and rebuilt with new cartridge/bearings/seals.
NOW AVAILABLE – 200Tdi/300Tdi Hybrid engine , another Zombie Motors Exclusive !! – We build an engine starting with perfect 200Tdi block for advantage of better water pump and cooling/stronger bottom end, but use 300Tdi connecting rods and pistons so that 300Tdi cylinder head can be fitted. Big benefit is that brand new 300Tdi cylinder heads are still available for very reasonable prices, while those for the 200Tdi are not. This also allows the use of brand-new, much more affordable 300Tdi diesel injectors. Consider this the best of both engines in one!
OPTION OF REBUILT INJECTION PUMP/ INJECTORS AVAILABLE AT EXTRA COST, otherwise pump will be good/used/guaranteed – This one step adds significant money to the job.
TOTAL REBUILT ENGINE KITS SOLD AT AVERAGE PRICE OF $8900 – This includes all install / conversion kits required for particular application.
VW Volkswagon Tdi & M-Tdi engine kits for Vanagon/Westfalia/T25 etc
I also have on hand the kit to replace the aircooled engine in your VW with one of these Tdi options. Kit comes with diesel transaxle, oil pan, oil filler, engine mount crossmembers, motor mounts and more. Hard to find stuff – make your Vanagon / T3/T25something special!
I also have the Bosch pumps to convert these engines to all-mechanical (M-Tdi) function. Sweet and easy.
COMPLETE CONVERSION KITS COME WITH ALL OF THE FOLLOWING:
AVG/AHU/1Z low mileage engine. Engine has been converted for you and they come mounted with new/rebuilt Land Rover injection pump with mods done to run the VW. Engines are sold complete with alternator. While here, engines get NEW T25/Vanagon/Transporter oil pump, used T25 oil pan, NEW water pump, NEW timing belt/tensioner/idler, NEW engine rear main seal, NEW exhaust manifold gaskets, and whatever water hose outlets need to be changed/modified are changed/modified.
51 degree mounting for Vanagon/T25/Transporter motor mount brackets and engine compartment cross-bars.
New 215mm solid flywheel.
New 215mm clutch/kit & proper new pilot bearing installed in crankshaft.
Used T25/Vanagon/Diesel bellhousing for transmission-transaxle. (I can source taller-geared unit for Tdi engine for you if you like.)
New diesel accelerator cable.
Oil Dipstick/ T25 oil filler neck.
Diesel water hose kit with diesel coolant reservoir.
It is understood with the M-Tdi kits that you will be re-using your existing wiring from your old engine, as there will be nothing new to hook up in any new locations.
Every kit is a little different, and everyone's needs (and pocketbook) a bit different, too. Some people want as complete a kit requiring as little input from themselves as possible, and other people want to save some money by being involved with more wrench work. In short, these complete kits start at $4500 and can go up from there.
This is for everything you need to install the engine and get it running in your truck, without having to run all over looking for one of these/one of those… But please read the notes below:
NOTE 1 - I do not have a specific kit yet for intercooler/ pipework installation. I use a generic intercooler pipe kit and usually use a Land Rover Tdi intercooler (This includes air cleaner install). You will have to get creative on your own in this department, or if you would like me to make this kit for you, contact me for pricing.
NOTE 2 - I do not include the exhaust for you after turbo downpipe – there is no exact, off-the-shelf pipe from here (until I have some made), and it is cheap enough to drive to the exhaust shop and ask someone there to make the pipe/muffler brackets/ muffler/ etc. Again, if you need help with this let me know and I can share how I do it, and what it costs.
Call 912-414-8993 with any questions about these. Thank you.
Transmissions – LT77, R380, 300Tdi-Automatic, LT230 center-locking transfer cases
I have the LT85, the BEEFIEST of the V8 5-speeds for your Defender 90/110 or Range Rover Classic. I have the LT95 for early V8 Stage 1 Series trucks and very early Defenders. I have Fairey overdrives. If it bolts behind your engine and is full of gears, I probably have one. I even carry the 300Tdi-version of the ZF automatic transmission, and even have the engine-parts to make your 300tdi an auto-version, too.
All used transmissions carry a 60-day warranty.
Cleaned and inspected, from 70K miles up to 180K mile units.
Automatic and manual gearboxes.
Prices start from $300 for good used units.